List of Boston North West Towns
Links in list provide photos and information about each town. Acton, Andover, Arlington, Ashby, Ayer, Bedford, Belmont, Billerica, Boxborough, Burlington, Carlisle, Chelmsford, Concord, Dracut, Dunstable, Fitchburg, Groton, Harvard, Lancaster, Lawrence, Leomister, Lexington, Littleton, Lowell, Lunenburg, Medford, Methuen, North Andover, North Reading, Pepperell, Stoneham, Tewksbury, Townsend, Tyngsborough, Westford, Wilmington, Winchester, Woburn.
The following North West matrix gives you quick access, by town, to about any information you could want, including HOMES FOR SALE. Everything is hot-linked, and maps are interactive.
---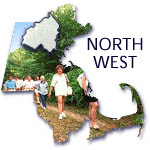 North West of Boston and immediately west of the North Shore sits the Merrimack Valley. Easily accessible by two major highways (I-93 and I-495), it is a region rich in history and natural beauty. These North West communities range from agricultural villages that have evolved into attractive bedroom communities, to historic old milling towns that have totally revitalized their economic base. The quality of life here is deeply rooted in the core belief that hard work and a cooperative spirit can accomplish anything. Towns such as Lexington and Concord balance the preservation of their quaint New England character with the integration of businesses, which complement and serve their towns. Others towns like Burlington and Woburn have experienced more dramatic changes due to the influence of Route 128, the high-tech, inner beltway which arches the northwest suburbs.
Rich in history, brilliant in its architectural beauty, and brimming with arts, culture, and recreation, this charming region has everything you want. Consider access to the urban resources of Boston to the south, the panoramic North Shore beaches to the east, and the New Hampshire mountains to the north.
The North West area supports major industry clusters in numerous fields including biomedical, biotech, telecommunications, textiles and apparel. Each cluster attracts and supports its own business network, from specialized suppliers to providers of professional services such as law and finance. Many other startup, spin-off, and non-traditional industries flourish here alongside corporate giants under highly favorable growth conditions.
This is an outstanding place to live and work. Leonard Bernstein, Robert Frost, Jay Leno, and Robert Goulet have all called this area home. How about you?
See a matrix like the above in North Shore North West Metro Boston South Shore
Register now if you would like to see more detail including with daily email updates.
---